Our system Breathes new life into your Drinking water.
The use of Lead as a plumbing material was commonplace in properties that were built up to and including the 1970s. Therefore if your property was constructed prior to 1970 and you haven't upgraded or replaced any of your internal plumbing, it is likely you may have lead pipes or fittings containing lead.
your water may be flowing through lead pipes. Lead pipes are subject to hidden and perhaps not so hidden leaks
If the plumbing has been upgraded or replaced within your property, you should still check the pipe that runs from your property boundary to your kitchen tap, as this may still be a lead pipe. If in doubt, contact us today.
All-brite provides a lead pipe relining service. This service consists of proper pipe cleaning followed by lining which is the application of a protective liner (PET) to the interior of the pipe. An impermeable relining that provides a barrier between the water and the lead pipe which conveys it.
Water and lead don't mix.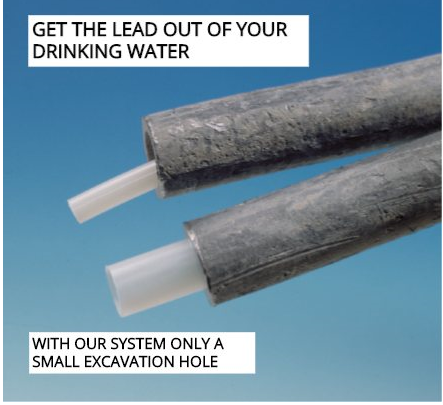 Switching from a lead pipe to a clean new water pipe is now simpler and cheaper than ever before.
It's healthier for you and your loved ones.
Call us today to discuss a survey and the elimination of leaks and reline your lead pipes.
If you think you have LEAD PIPES contact us today Nationwide service
Make the shift today-call
A short video on our case study page